Gas Injection Fixed Nozzles
The following applies to all nozzle assemblies:-
The gas injection nozzle is designed to inject and vent gas into plastic contained within a mold cavity or runner system. Before gas injection can commence the nozzle must be surrounded with plastic that is at a suitable pressure and temperature to seal around the nozzle tip. 
If the plastic is not in the correct condition the gas will escape around the nozzle tip and flow over the outside surface of the component and escape to atmosphere via the split line or ejector pin. 
The nozzle tip must extend far enough into the melt to create a seal and to produce the gas bubble in the desired position. If the nozzle extends too far into the melt it can create a weld line. 
If the nozzle tip extends too far resulting in it being too close to the opposite cavity wall, gas flow will be restricted and flow marks can be created.
6mm/10mm:
These nozzles are suitable for a wide range of applications and can be applied to parts produced using the short shot, full shot and overspill gas assist processes.
Typical applications:-
Automotive –           Grab handles, Door bins, Mirror housing, Interior door panels, IP's, Armrests
White goods –         Refrigerator handles, Oven handles, Washing machine tops
Packaging –               Pallet
Features
Range to suit all applications

High gas injection flow rate

Accurate and repeatable

Good venting

Robust and industry proven

Non blocking and easy to maintain

Operate with any thermoplastics material

Access to key components from the front of the mould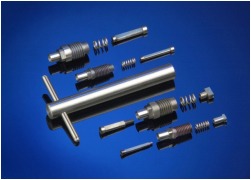 Product Details:
Cap type Standard 6mm/10mm:
Used in most applications. 6mm is used if 10mm is too large for the part being moulded
Comprises of cap, pin and spring assembly.
Specifying the cap length fixes the other items in the assembly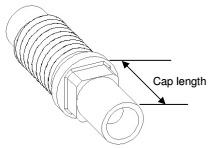 Enquiries
If you are interested in a quotation for one of our Injectors or Nozzles, please click on the button below, or get in contact with our sales team
Tel (734) 604 5729 or email sales@maximator-aim.com